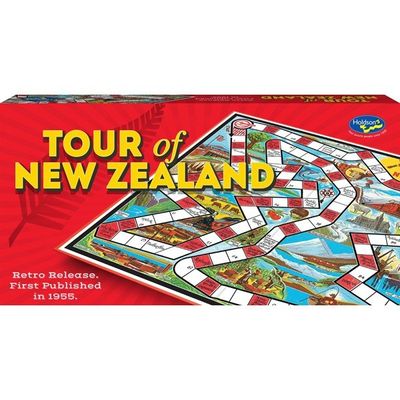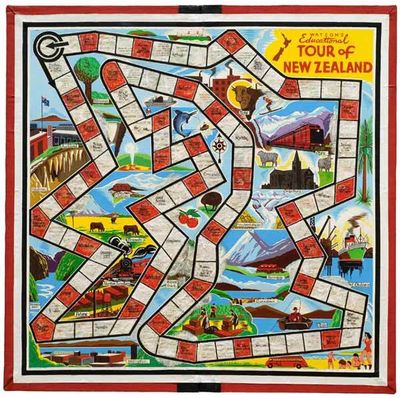 Tour Of New Zealand Board Game
$26.99
Out of stock
First published in 1995 and now it's back. The Tour of New Zealand Board game was set up by Thomas Holdsworth and Sons,now known as Thos Holdsworth & Sons,
Originally designed in Christchurch by artist Dudley Bain this became a popular New Zealand board game.This game invites players to move through a series of familiar tourist destinations and learn the geography of their country. No need to travel!!!
Move through places like Milford Sound, Dunedin , Invercargill , Timaru , Picton , Auckland , Hamilton , Coromandel , Great Barrier Island, Wellington and many more place names.
Rules are easy : Throw the dice and follow the instructions printed on the squares you land on.
Rules:1. Each player takes a separate counter and by casting the dice in turn, determines how many spaces he or she will move.
2. The players will follow the instructions printed on the squares on which they land.
3. Should a player land on a square occupied by another player he or she will return to the nearest town.
4. Should a player throw a six, another turn will be taken.
5. A player must cast the exact score to finish the game.
6. The first player to complete the tour is the winner.
Requires 2-4 players
Suitable Age : 6 years +
Product size : box measures 36.6cm x 4cm x 18.7cm
SKU: 10054