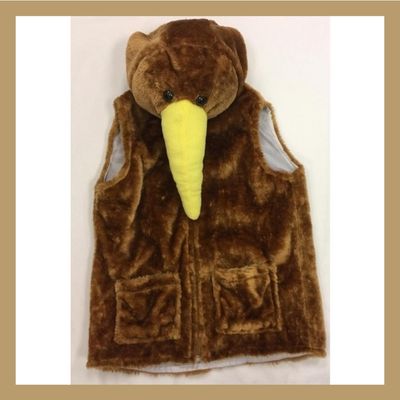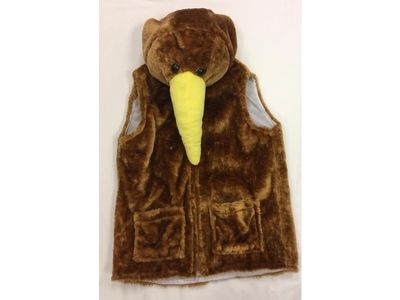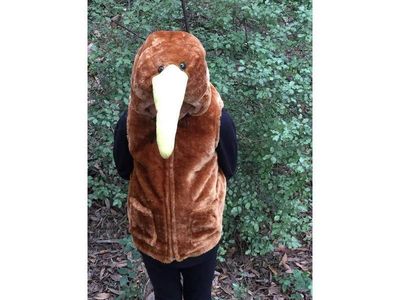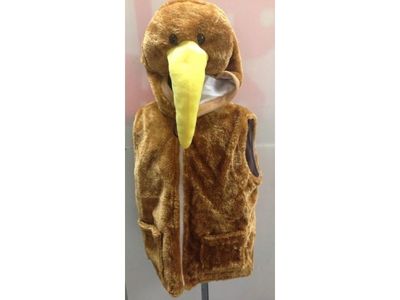 Kiwi Vest Dress Up
$38.99
This kiwi costume is new to the store and with its vest design can be placed over your clothing ready for pretend play.
Plush, fully lined and washable!
Features:
* Fully Lined
* Washable
* One size.
* No sleeves and legs means this vest is easier to get on and off. This also means it can be used for varying ages. For younger ages, this mean it will be longer in length and may be below their knees.
* The toggles make the hood adjustable for a snug fit.
* Material: 100% polyester
* We recommend hand wash in cold water
Sizing Information:
The Vests length (neck line to bottom of the vest) is approximately 50cm and width approx. 40 cm (80cms in total).
Suitable Ages :5- 8 years, suiting heights approximately between 90-130cm
For younger ages, the vest will be longer in length and may be below their knees.

We all know there are educational Benefits Of Dressing Up: Here are a few : -
Encourages Creativity - When they are playing freely and trying on different personas, they are using their imagination. The creativity isn't just in picking out what to wear. They are creating different scenarios to play through, often with inventive props. They are looking at things in new ways.
Language Skills - Often, you will be able to hear them telling their story through their dialogue. They aren't merely practicing funny voices. They are putting their language skills to good use.
Self Esteem & Confidence - Dressing up provides an opportunity to work through their feelings and even explore the feelings of others. When they are in their own little world they feel safe enough to explore the different emotions. They can use dress up play to make sense of the world by acting out and working through various problems.
Life skills - they are practicing life skills. Changing into costumes is wonderful practice for younger children learning how to dress themselves. Tea parties are social affairs that call for manners and etiquette.
Enjoyment - Dressing up is fun! That is evident by the smiles, giggles, squeals, the roars and stomps. They are playing, and playing is important.
Parent Benefit - you are getting the opportunity to view how your child perceives the world. You get an insight to what has impacted them, the good and the bad.
SKU: 10287