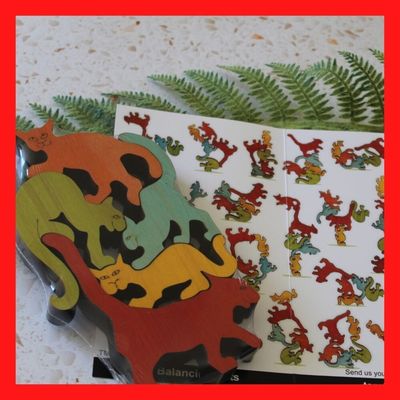 Balancing Cats
$32.99
Out of stock
Ever tried to balance a cat or many cats? This unique puzzle offers hundreds of balancing possibilities.Try to balance the cats before they run off. This pack includes over 20 challenges to get you started. What should we make today?...A tall tower, a circle or a "V". A great puzzle for all of the family to enjoy.
This puzzle pack is good for learning about gravity, leverage, balance points, weight, fulcrums and friction. Develop personal skills like a cat!! Patience, Perseverance, Problem solving, Spatial awareness, Hand Eye Co-ordination and fine motor skills.
Made in New Zealand . Non toxic dyes are used. Comes with 5 differently shaped and sized cats which all fit into the box. Also comes with instructions and care instructions.
Can be used with more than one style of balancing sets for added fun.
Suitable age: 6 years plus. Suitable for one or more players
Size of box : 220mm x 120mm x 25mm
SKU: 10192