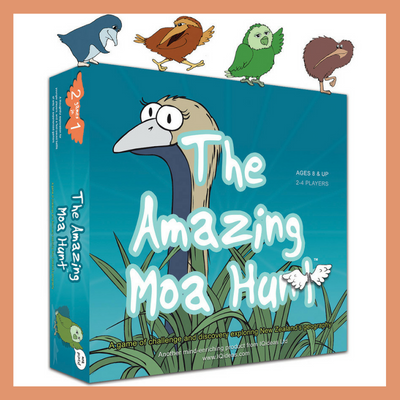 The Amazing Moa Hunt
$45.99
Out of stock
The Amazing Moa Hunt is a truly iconic New Zealand game. If you like treasure hunts, you're going to love searching beautiful Aotearoa for Moa treasures (footprints & eggs) by guessing the location of New Zealand towns and cities.
Experienced explorers can play a second, even more challenging game. Using a set of clue cards, you can launch a fast paced battle requiring quick thinking and even quicker answers!
Enjoy 2 games in 1 as you explore New Zealand's geography, gathering clues, treasure, and knowledge as you go.
A beautifully presented game - the perfect gift for Kiwis at home and overseas!
For two to four players. Builds both knowledge and memory skils.

Suitable age : 7 years +





SKU: 10014