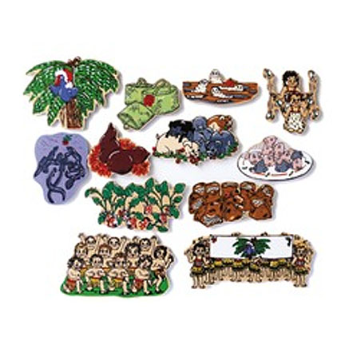 Pukeko in a Ponga Tree - Magnetic Story Puzzle
$40.99
This 12-piece wooden magnet set is designed to accompany the classic New Zealand children's song, "Pukeko In A Ponga Tree," sung to the tune of "Twelve Days of Christmas." Each magnet illustrates a verse of the famous song.
A Pukeko in a Ponga Tree is a New Zealand version of 'The Twelve Days of Christmas', adapted by Kingi M Ihaka.
"On the first day of Christmas my true love gave to me...
A pukeko in a ponga tree"
Kumera, huhu grubs and haka lessons are some of the wild variations on this classic Christmas song!
PUKEKO – A native New Zealand bird of lowlands and swamps, often seen alongside country roads and on farmland.
Suitable ages : 2 - 7 years


Pieces range from 110 x 150mm to 200 x 80mm to 120 x 50mm. Magnetic backing so it is easy for adhering to metal surfaces. Looks great on the fridge.
SKU: 10015