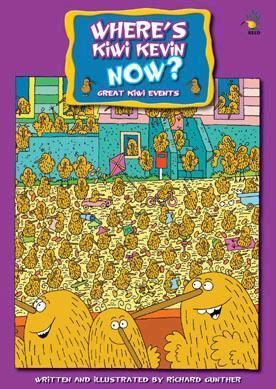 Where's Kiwi Kevin Now
$24.99
Out of stock
This is the second title of Richard Gunther's Where's Kiwi Kevin? series.

This time around Kiwi Kevin is taking part in some fun 'kiwi' activities – including an Outward Bound course and a Pet Day at the local school. Your job is to find him – but it won't be easy!
You will find Kevin in the following places: Auckland Round the Bays; Kite Day; an Outward Bound course; Pet Day; Agricultural Day; a sailing regatta; a surf carnival; the Coast to Coast; a netball game; the Warbirds over Wanaka Airshow; fishing at 90 Mile Beach; whitebaiting; and Christmas in the Park.
Published October 2004
Softback - 32 pages
Full colour illustrations
Lots of fun for all ages!.
SKU: 10191